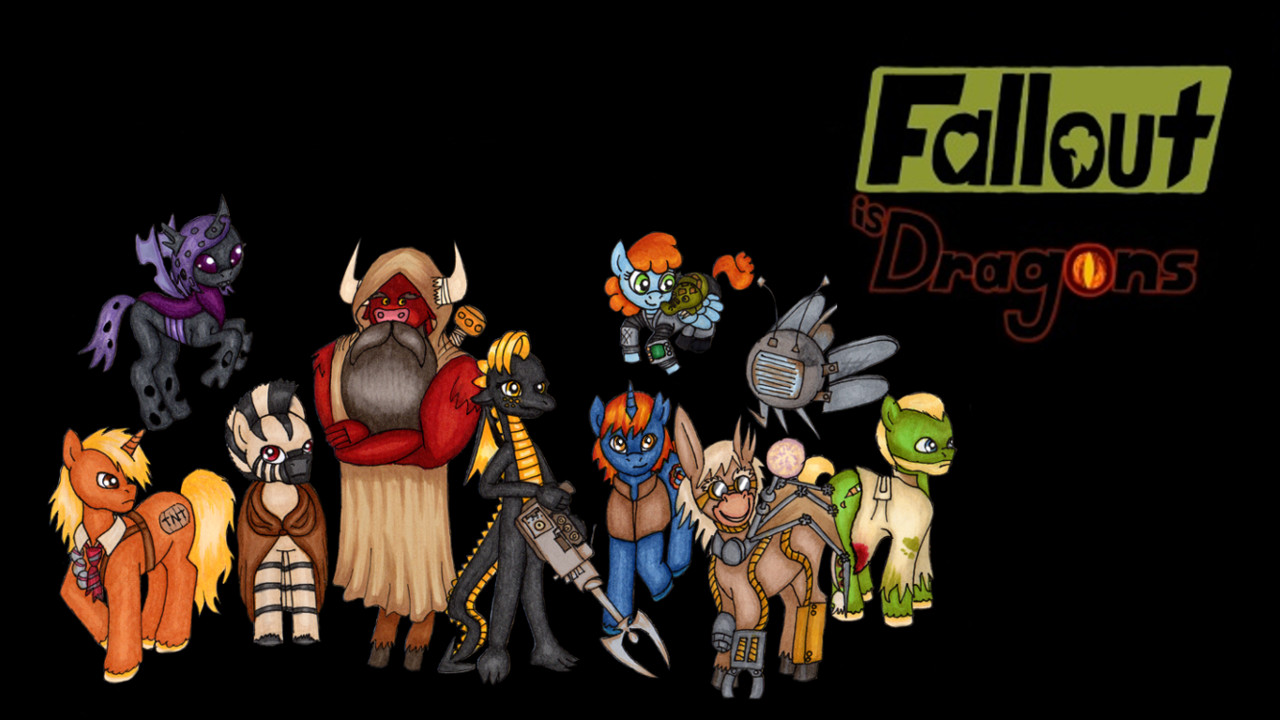 Fallout is Dragons was an actual-play RPG podcast / livestream show I ran from January 2014 to June 2016. It used my friend's homebrew Pony Tales RPG system and was set in the Fallout: Equestria fanfiction setting. Looking back over my body of RPG work, it's still probably the best campaign I've ever run overall.
Towards the end, though, there was a schism in the group, one person was forced out, and the show continued.
I'm not going to make this about naming names or pointing fingers or creating a thorough account of what happened. I don't have the Skype chat logs (and have little desire to hunt them down even if they did still exist). I can hardly recall anything that was said; all I can vaguely recall is that some unforgivable things were said as things blew up.
Only now, after my emotional and mental breakdown back in 2019 and months of struggle and therapy, do I begin to have a grasp of my own role in what happened, how I let it happen through neglect. Because I wasn't even conscious of what I was doing at the time.
Some background, though.
I was emotionally traumatized by my (very stressed-out due to other factors) parents at a young age. I was yelled at a lot as a baby and as a prepubescent child – the worst times being totally at random, going from 0 to 100% in-trouble with no ability to comprehend anything other than that I dun fucked up somehow. I developed hypervigilant personality traits and avoided conflict at all costs, and whenever conflict broke out around me, I always assumed it was my fault somehow, fled to my room to hide, and spent the next few hours blaming myself and trying to figure out what I did wrong.
That probably spells out most of the story right there, but I have a little more to add.
Between 2014 and 2016, I was on my prolonged, steady decline at my dream college. The hypervigilance I'd developed both as a child – and as a teenager having to take care of my newborn baby half-brother – made homework and teamwork impossible for me to complete with any rigor. Furthermore, I was struggling with undiagnosed sleep apnea, stealing away all my deep REM sleep and slowly driving me insane.
And yet, pretty much between the middle of my teenage years and 2019, I was in the mindset of pretending nothing was wrong with me. At all times. Putting everyone else ahead of myself and my needs. Except that my needs and traumas and fears still controlled me, unconsciously. I just pretended that I wasn't feeling it so that the delusion of success could continue.
Knowing all that now, what happened during the complete breakdown of the Dragon Mawlers' group cohesion – and specifically, what I did to enable it, let it fester, and let it blow up out of control – becomes so painfully, obviously clear to me. Every time people yelled during a call, I froze up like a deer in the headlights. When the yelling turned into prolonged arguments, I avoided them and stayed out of it as much as I could, maybe throwing in a judgment call or two here and there because I was the leader and I was expected to do something. When it finally blew up, I took the path of least resistance that made the conflict stop so that we could all pretend that things were fine and move on again.
It was neglect born out of fear. Deep, traumatic, unresolved fear. The fear of a 3-year-old, 6-year-old, 11-year-old, 14-year-old, all simultaneously flashing back and wanting nothing else than for Mom and Dad to stop yelling.
It's not an excuse. A group's behavior trickles down from the top, and I was the leader, both as the DM and the showrunner. Not only did I neglect and avoid problems, that became hard unspoken policy for everyone else too, until it couldn't be avoided anymore. And when the worst of it broke out into flames, I basically didn't support anybody. I hid, I dodged, I muttered indecisively, I attacked whoever seemed to have the weakest position and the most to answer for when easy opportunities arrived. I was the worst kind of boss.
And knowing what I know now… if we turned back the clock, I would not be able to act any differently. Is it theoretically possible that the conflict could have been avoided, that some adult, mature compromise could have been reached if we had tackled the problems sooner? That's a big maybe, but this isn't a maybe: I wasn't capable of doing any of that. I wasn't able to be a mature adult about anything, because I was a teen in arrested development treading water to pretend otherwise, neglecting everything – including myself – that needed attention.
My players deserved better. Fallout is Dragons deserved better. I was a bad leader and a bad DM in the long run, and its shortcomings rest at my feet.
I'm still paying for that neglect. It all came to a head in the summer of 2019, where I couldn't deny the pain I was ignoring anymore and everything broke down. I'm now in a purgatory where I can't even go outside and be around strangers without having a panic attack within an hour, which means I can't find gainful employment. Patreon and the patient kindness of the handful of friends and family members who believe that what I'm going through is real are the only things that have kept me alive and afloat the last few years. And even then, that arrangement still means I'm stuck with someone who regularly and uncontrollably triggers my post-traumatic stress buttons.
I don't bring that up – any of this up – to gain pity points in the context of Fallout is Dragons. I'm mainly pointing it out 1) for the possibility of slight schadenfreude for those I've wronged with my neglect, and 2) to demonstrate that what I'd done was a pattern of behavior that I later paid (and am still paying) inevitable consequences for.
If there's one thing I've learned from my counseling and therapy, it's that we are all, as individuals, the sum of one unbroken and interconnected chain of events. Pretending that parts of that chain didn't happen or don't exist is just taking an emotional loan out from the future. Eventually you have to reckon with it somehow or go mad.
Just needed to get all of that off my chest at 3:30 AM, I guess.